Just in case you don't know what the hell "Green Dam" is, it's a content-control software developed in the People's Republic of China. Every future PC in China will have to have this software installed (though the running of this software is not currently mandatory).
http://en.wikipedia.org/wiki/Green_Dam_Youth_Escort
It is widely believed that this is a measure taken by the Chinese government to somehow control information and the Internet. As you can imagine, this crazy idea is hated by the computer industry and the Chinese netizens.
The infamous "popularity" of this stupid software has inspired the Internet citizens to create a manga-style 'Green Dam Girl'.
(Simplified Chinese)
http://zh.wikipedia.org/wiki/%E7%BB%BF%E5%9D%9D%E5%A8%98
Some pics of her I found in my local forums: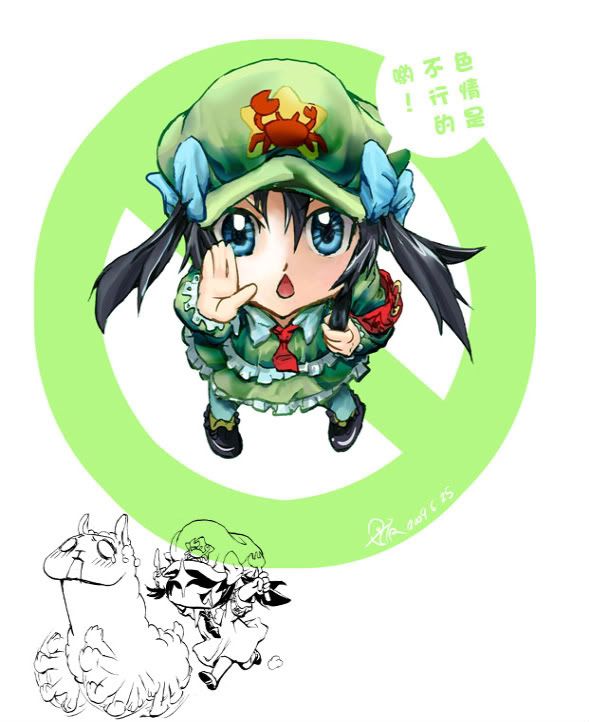 Text translated: Ecchi is not allowed!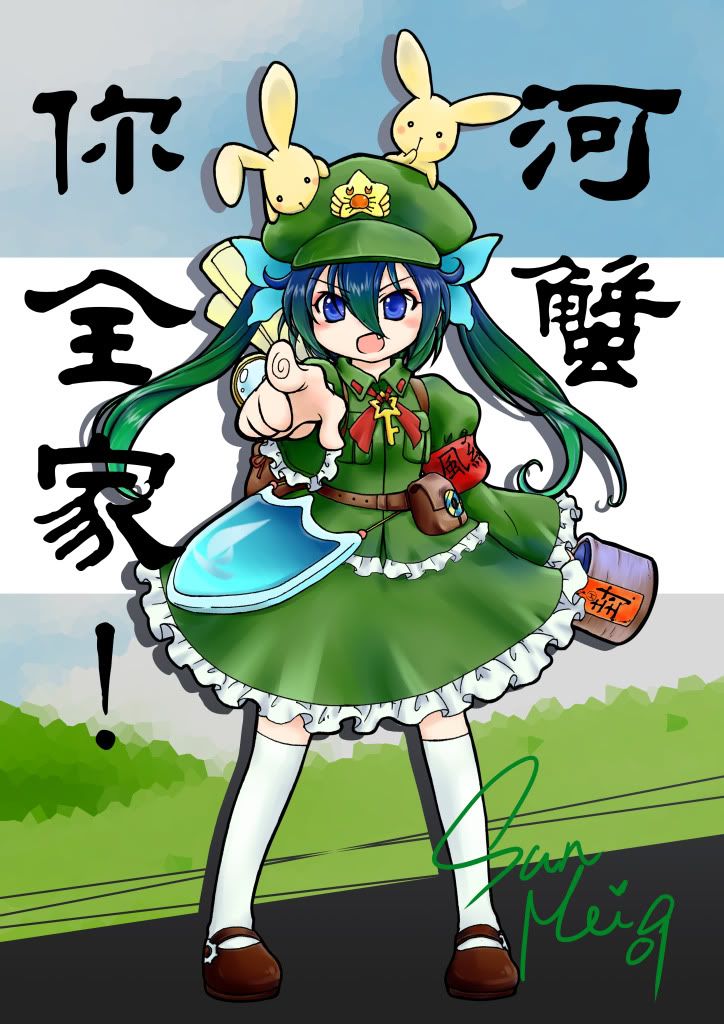 Text translated: "River crab" (roughly means "censor") your whole family!
More pics from Google:
http://images.google.com.hk/images?q=%E7%B6%A0%E5%A3%A9%E5%A8%98&oe=utf-8&rls=org.mozilla:en-US:official&client=firefox-a&um=1&ie=UTF-8&sa=N&hl=zh-TW&tab=wi
So Nitori got herself a new job?
I find the similarity somewhat amusing.
Well, there was versions of Green Dam that were getting close to blatant rip-off. But hopefully the artists understand the similarity and try develop the character into more original.
Ahahaha! When I first saw the Green Dam-tan, the first thing that came to mind that she looks like Nitori! I agree that Green Dam-tan is an evil character and it's a good thing this software is so hated!
how cute, even though it's for a rather vile program. technically viru-tan is evil, but we love her anyway. in time there might be a few dam-tan backgrounds floating around the gallery.
hate the program, not the -tan.
There are already songs and even fan-based games regarding Green Dam-tan. Maybe she won't have an impact outside China, but she will definitely be a hit in the Chinese community LOL
Actually... it seems that China had backed off on the filter required installation. So... yeah... no filter to keep you away from sites for (quite) a while.

http://tech.yahoo.com/news/ap/20090630/ap_on_hi_te/as_tec_china_internet
Yeah, China is as crazy as two horses shipped from Shanghai with headaches and toothpaste rubbed into their arses.


Also, jetlag sucks.

What was the topic again? Oh, right.

I'm not sure whether the amount of inaccessible sites was caused by crappy connection and such, or the Great Golden Firewall, but I can say fo sho that surfing in China is easier with a board on the Yangtze river than on the internet.
Damn, it's good to be home.
During your stay in China, what websites were restricted and of how many websites you wanted to visit, how many of them could you actually visit?
Well, considering the small amount of free time we had we didn't get to surf a lot, but I think YouTube was blocked, and for some reason, my job database as well. Wtf?
That's like having a tiny soldier giving orders inside the PC. Her design looks very military IMO.
That's actually the general idea/conception of the Green Dam girl.

Anyways... anyone ever noticed the Vista and 98SE jokes? lol If not, look at their hairs. XDDDD
Meh Like hell you think I'll visit china and have that installed on mine, over my dead body!
if you look at the google images, there's one of green dam and XP.....
i'ma uploadin' eet!!! >:3
Ohh yes I saw it I think I have it and you saw the one with green dam standing behinf firefox - ko?
That be givin' me one feeling only...


MOLESTER ALERT.

*PFF*
i serisouly though ecchi wasn't allowed. xD
Ecchi na no wa ikenai to omimasu!

But seriously, I know for sure that hentai is not allowed outside of the hentai section. But to keep the rest of this site fully worksafe, ecchi pictures should be text-linked to.

So, if you're going to post them in this or the other sections so that if someone were browsing this site at their workplace or school, they can browse without the risk of getting called out on looking at questionable content (and so they can look at the picture later in the safety of their home).
Ahh yes very good. I did that with mine a while ago in the os family three. They are not ecchi but i didn't think they should be there ocupying space at the post. So I just linked them. That works for me too since sometimes I take my laptop to my store.
it's not reallt ecchi, just laughably embarrassing. poor xp. xD

hmm, me thinks that besides the various viruses, this is the only -tan related to a hated software.
am i wrong?
There's an AOL-tan and an MS-BOB-tan too.
but are they hated? AOL is used by lots of people.

what the heck is MS-BOB? it sounds familiar....
AOL is still used by people, but not as nearly as many as there were 10 years ago! Even back then AOL was criticized a lot!

This is MS-BOB. Microsoft's biggest and most laughable failure! (http://toastytech.com/guis/bob.html)
oh dear gawd....O____O the fail.....oh gawd.....
*runs off to facepalm thread to facepalm*
Yes. MS-BOB is very facepalm-worthy.

*facepalms*
You know what they say; everyone messes up at one time or another... lol
but how many chances have we given various os-es over the years? microsoft has had several facepalms. xD
well the -tan is cute but i do not like her attitude